Below are bios of the team of woodworking and carpentry experts.  Many other talented trades, craftsmen and artisans come onto Greenline jobs with high levels of expertise.  We are always excited to find others dedicated to high levels of skill including blacksmiths, door and window makers, and tile setters.
Finding projects where talented craftspeople can bring their skill and make a living is a joy for Patrick and Jayne.  Greenline would like to bring this group of skilled people to your historic home for restoration and preservation projects.
Marc Langhammer – Project Lead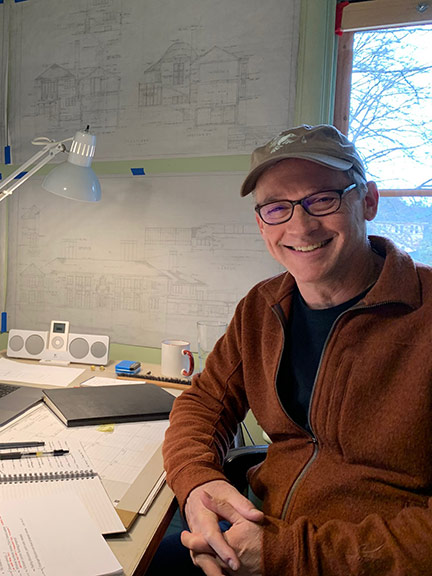 Marc Langhammer is an employee of Greenline. He received a degree in architecture from the University of Kansas and completed a furniture making apprenticeship with Charles Shackleton in Vermont. Marc has many years' experience as a furniture maker and finish carpenter, and many more designing custom residences around the country, the majority of those years with Muse Architects in Washington, DC. He brings this unique blend of architectural and woodworking skills with him to Greenline, in service to the restoration of significant homes.
Native to Portland, Marc and his wife Penny returned to raise their two boys in his childhood home (a 1936 Tudor). Favorite memories around building are from his days in Vermont. With his friend and mentor, the furniture maker Josh Metcalf, Marc rebuilt a salvaged 18th century post and beam hemlock barn as a wood shop for Josh.
Marc is currently the on-site lead for the restoration of the 11,000 square foot 1928 Herman Brookman masterwork, the Harry Green House (Bitar Mansion) adjacent to Laurelhurst Park in SE Portland.
Jon Leon – Carpenter/Project Support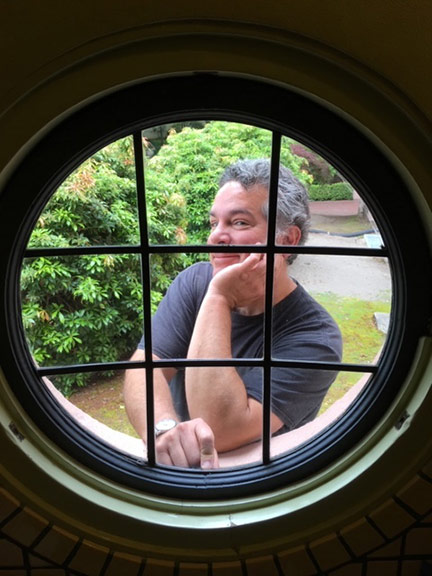 Jon provides general carpentry, framing and all around project support on various job sites. His steady, knowledgeable presence and building expertise were integral to Greenline's Silas Beeks House restoration 2016-2019.  His background in construction dates to 1999 with Nick Weitzer Construction.  With a hiatus during the recession, Jon returned to construction in 2016 to work on Greenline's Firehouse 17 project.  Jon was born in Montana and raised by an enterprising grandmother teaching him how to garden, cook and work hard.  Jon's perspective and on-site abilities are also shaped by his skills, developed over 12 years, illustrating children's stories.  He brings all of these passions and a strong work ethic to Greenline.  He is also a dedicated father to his son, Sam.
Jon's favorite memories are arriving in Oregon in 1990 to live in a 200 square foot cabin on Chehalem mountain.  From there, he would bike to his job at Nature's in SW Portland where he helped begin the local, organic food movement.  Jon is an independent contractor for Greenline and has his own business Jon Leon LLC.
Edward Biden – Master Builder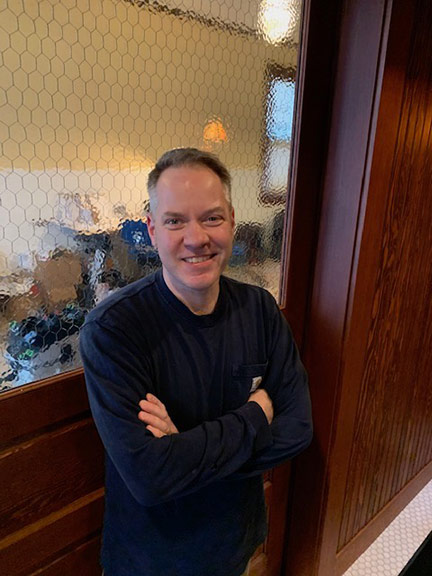 Born in Oregon, Edward learned his fine carpentry and building experience from his father, a builder of 200 homes in SW Portland, and grandfather a patternmaker and cabinetmaker.  Along with the knowledge passed down through the generations, he brings over 30 years of his own building experience from cabinetry to framing to restoration and preservation.  Ed says "My father taught me to build on a 100 year standard."
Edward, his wife Melissa and two children can be found fishing, foraging, and perpetually re-discovering Oregon's North Coast.
"I enjoy figuring the original intent and methods of past artisans and restoring or reproducing their work" says Edward of his restoration and preservation work.
Brandt Eilers – Master Builder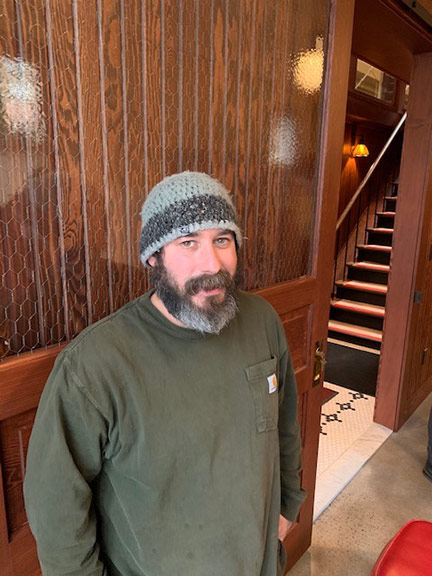 Brandt lives in SW Portland with his wife Kristi and son Captain.  He has a Bachelors degree of Science in Art from Willamette University.  He grew up building wooden models of boats from balsa wood.  He took shop and design classes and worked summers in the building trades.
When asked why he enjoys building restoration and preservation, Brandt says "I enjoy solving puzzles and finding solutions to complex problems." He credits a lot of his skills to lessons his father taught him: "First is to always look and learn about the place you are or the job you are doing.  There is something to be gained by paying attention."
Old Portland Carpenters
Together Brandt and Edward form Old Portland Carpenters, begun 15 years ago.  These days, they frequently find themselves on Greenline projects.  Most notably, their particular style, skill and sensibility informed the woodwork of the 1848 Silas Beeks House in Forest Grove.  Now, the Old Portland Carpenters team is bringing their expertise to the Harry Green Mansion near Laurelhurst Park.
Mauricio Rioseco – Master Craftsman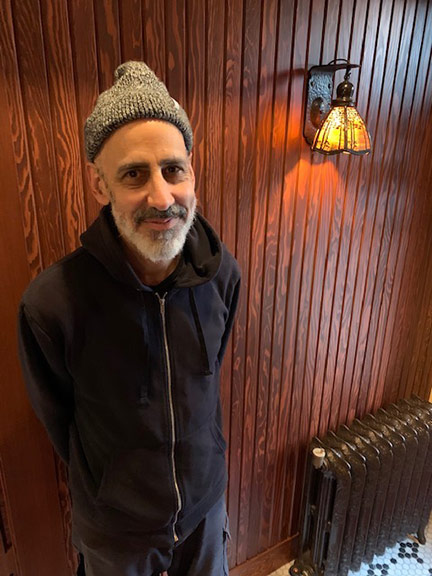 Mauricio was born in Argentina and raised both there and in Chile.   He holds both a BA and an MA in economics.  Over the last 27 years he has been growing his skills as finish carpenter, cabinetmaker and furniture maker.    Since 2007, Mauricio has been a Greenline collaborator.  His expertise can be seen and felt on West Wind's Pool Pavilion, restoration of the Watzek House, and the Belluschi residence.  Most recently, Mauricio brought both cabinetmaking and finish woodworking skills to the recent Greenline Firehouse 17 project where his hand created period details with both precision and beauty.
Patrick O'Neill and Mauricio credit each other with their increasing skill in carpentry and woodworking over the years. "Having a rich history with Patrick has led to an unspoken understanding between us as far as what needs to be done, how to approach it and the involvement, spirit and outcome that is expected of Greenline projects, and this has led to success in the field." says Rioseco.
When Mauricio first moved to Portland 22 years ago, he began working on turn of the 20th century homes.  He lives in one of them, a 1906 home with his wife and family.   Mauricio has his own business Rioseco Woodworking and commands a personalized woodworking shop where he builds period cabinetry.